Regular price
Sale price
$12.00 USD
Unit price
per
Sale
Sold out
Pineapple + Sage + Anise
Our Pineapple Sage candle envelops your space with an enchanting blend of pineapple, sage, and anise notes, whether you're unwinding or reveling in the aftermath of a productive cleaning day, the indescribable joy it imparts is universally felt. Pineapple Sage truly embodies this bliss, and upon lighting it, the word "DELICIOUS" will be the first to cross your mind. 
Candle burns uniformly, emitting a concentrated fragrance to fill the room. 
Natural Soy Wax
Cotton Wicks
No Added Dyes
Products are shipped within 5-7 business days and delivered via USPS. 
To avoid injuries—
Never leave candles unattended
Place candles on a stable heat resistant surface and avoid drafts.
Keep candles away from children and pets.
Trim wicks before lighting, to help keep debris out of wax pool.
Burn no longer than 4 hours at a time.
Extinguish properly: Use a snuffer or a candle extinguisher to put out the flame. 
Keep flammable items away.
Do not let candle burn itself out, stop using when 1/2" wax remains.
Share
View full details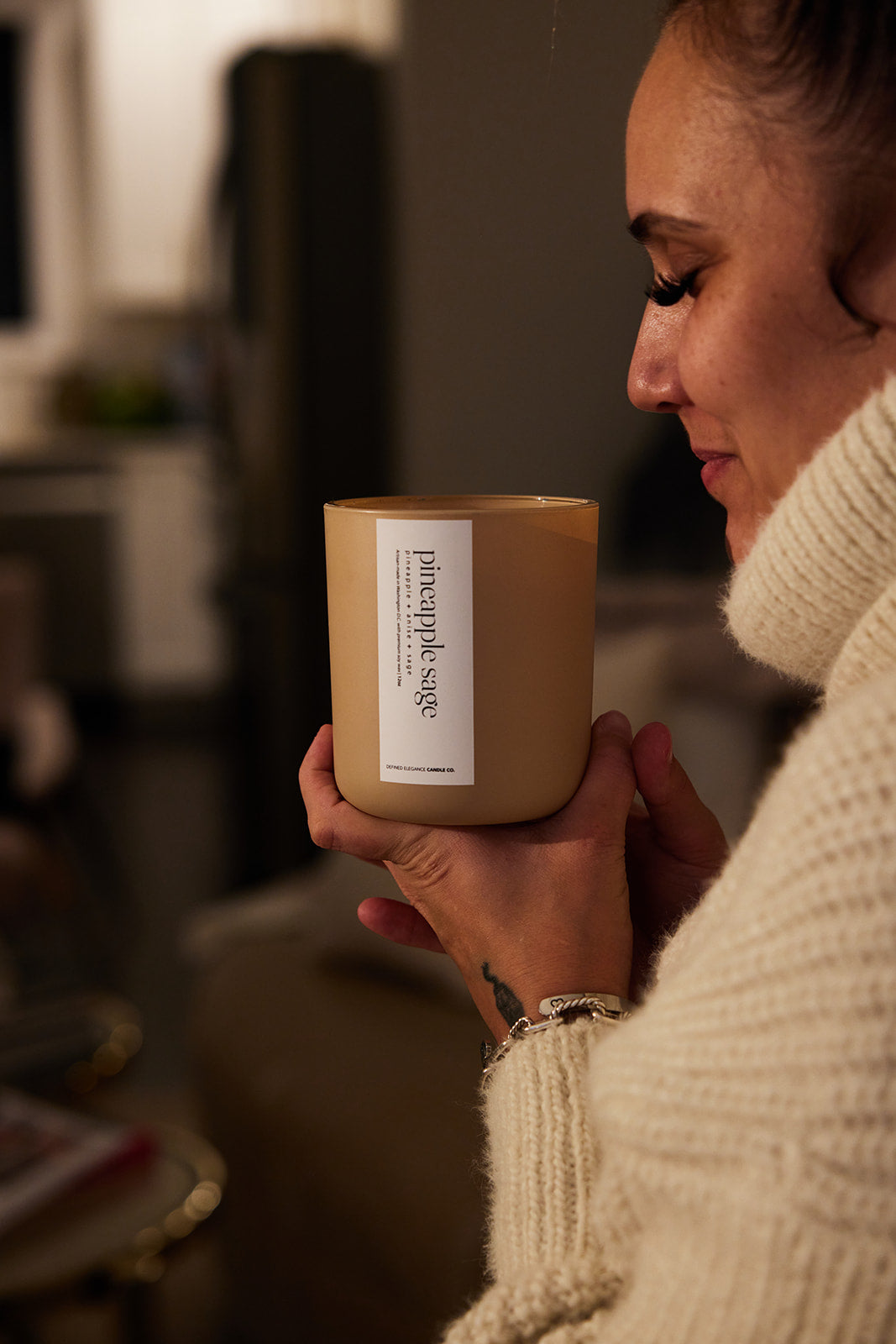 Great, clean scent!
This is one of my favorite scents! I've had it in wax melts and the carpet refresher. It has great throw, also.
Love the smell and packaging!
One word... WOW!
You're probably wondering what Pineapple Sage smells like. This candle smells exactly like a cross between a delicious juicy pineapple, sage, and green leaves (as described). My initial concern was that this candle would be overpowering, but it is not. However, you are still able to smell the candle and let it pleasantly light up every corner of your space. This candle is also a unisex scent. I could definitely see someone lighting this candle to prepare for sexy time or even just to lift their moods while either working from home or having friends over. I'm impressed and you will be too.
Amazing!
This scent hands down is one of my favorites.
Immediatley Yes!
Pineapple Sage smells delicious! . It permeates the air even when it's not burning. Unbelievable throw. DE Candle Company is one of the best!